Tracy's back at it again. This time for a tutorial on making a headband from a tie. If you want to pin this tutorial (go ahead, you know you want to), pin it from this link here. Thank you. Now, enjoy!
---
I have a delightful tutorial for you lovely readers today. This one shows you how to make a headband from a necktie (which I snagged from my local thrift store, by the way).

I don't know if I told you this already, but I'm a HUGE recycler. I'm all about finding creative uses for everything and this tutorial falls in line with that whole premise of turning one thing into another. Hope you like it!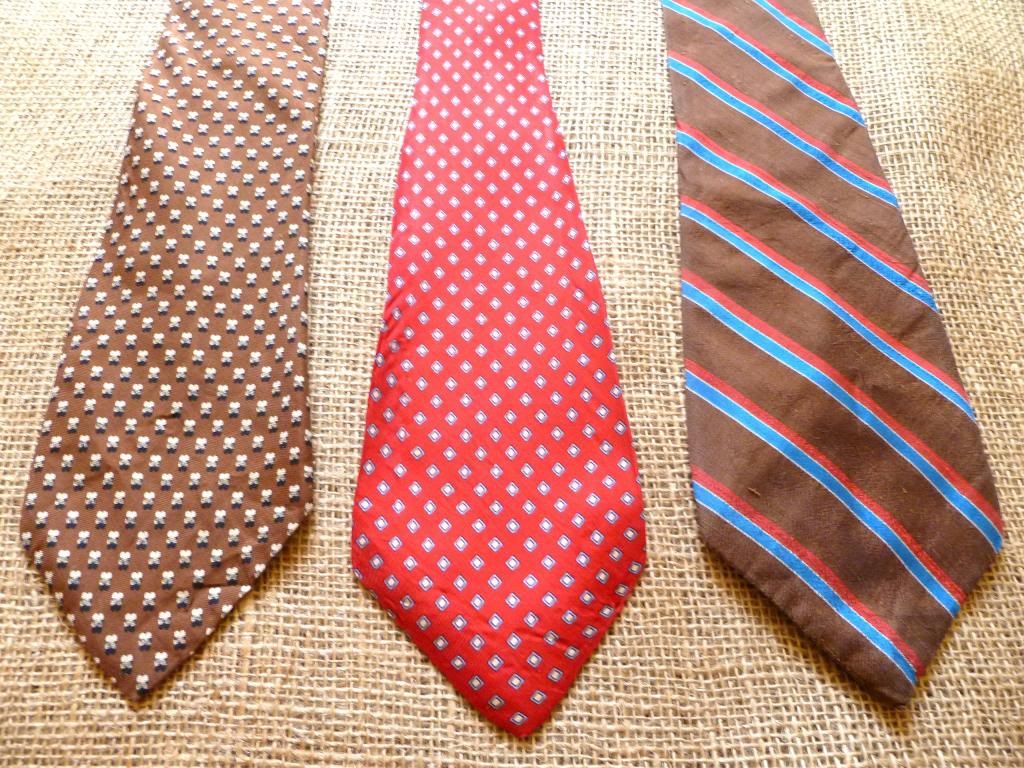 MATERIALS
-a scrap of fabric (cut out to size of your tie)
Since they came from the thrift store the first thing I did was wash them really good. Using the thinner end of the tie, I placed the tie across my head from ear to ear and used my finger as a guide for where to cut it.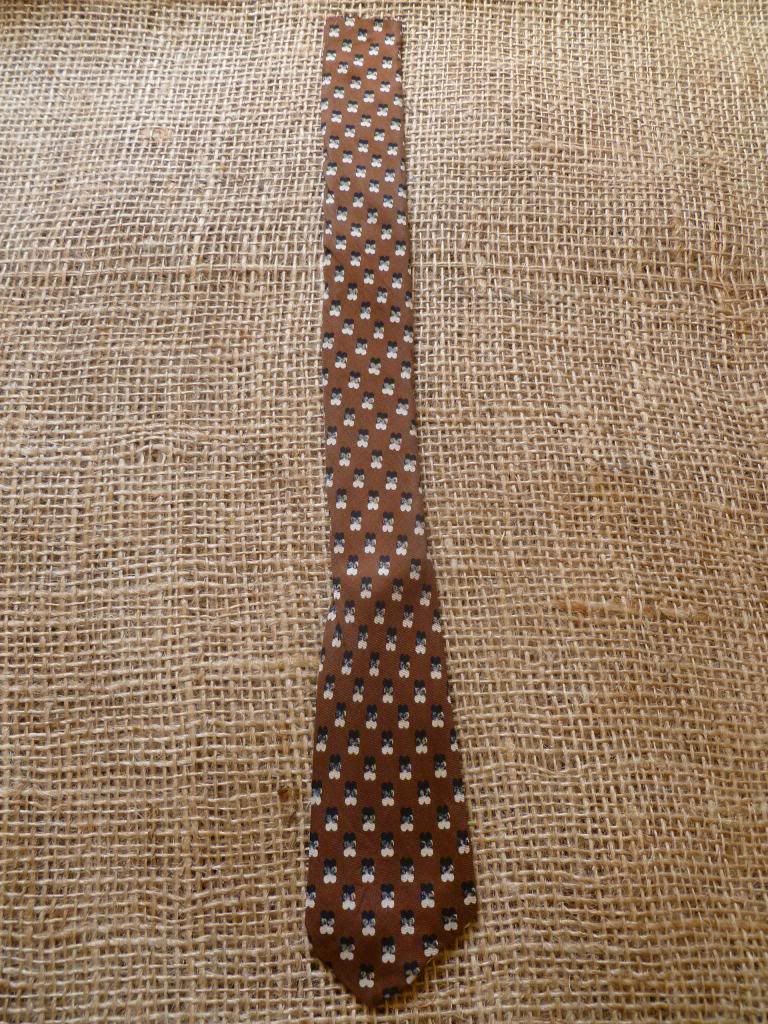 Taking the tie away from my head, I snipped off the thin end where my finger was. (see above)
Carefully cut the stitching on the back of the tie to open it up and remove the interfacing. Iron the tie open.
Snip off the pointed end and you'll have a near perfect rectangle. If the tie needs some edges trimmed off to make it straighter do so, but don't worry about perfection.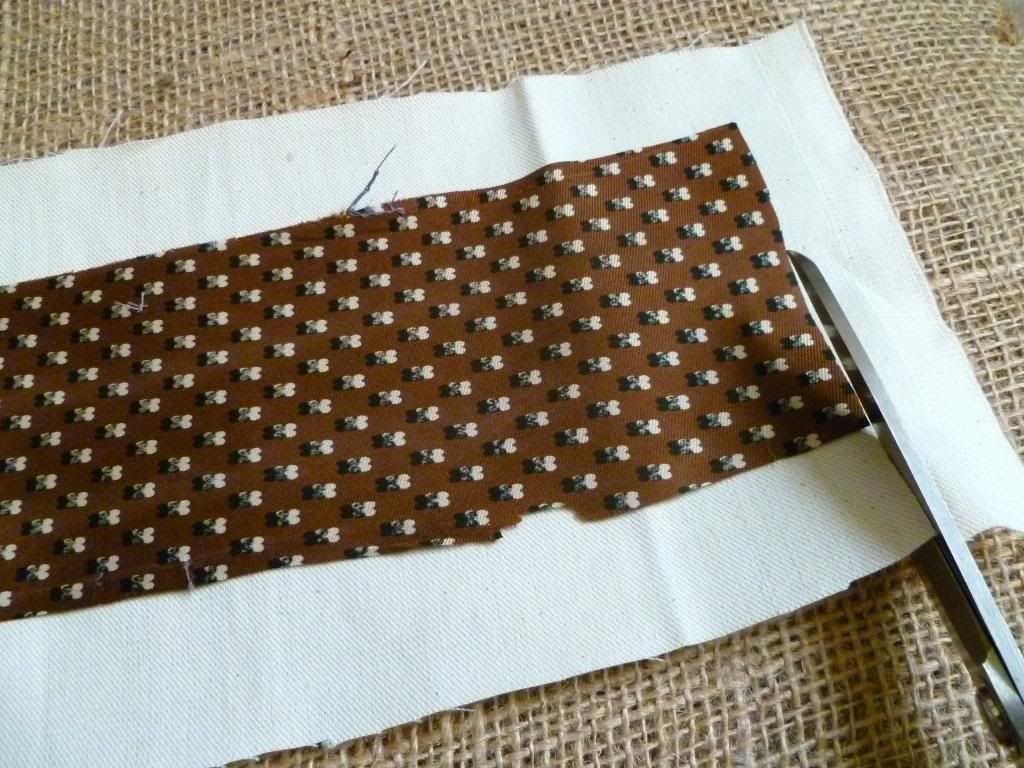 I wanted a bit more weight to my headband, so I used a muslin fabric scrap for the backing. Cut your fabric backing of choice using your rectangle tie as a pattern.
Pin the tie and the fabric backing together with the right sides together.
Sew about a 1/4" seam down the long sides of the headband. I like to double stitch my seams for added security. Keep both ends open.
Do not sew the ends together
. Turn the headband inside out.
Measure how much elastic you need by pinning each end of the elastic to each end of the headband and try it on for comfort. Once you have the comfortable length add about a 1/2" to 3/4" and cut it at that spot. You don't want the elastic to come up short and be too tight once you stitch it all together. Remove the pins.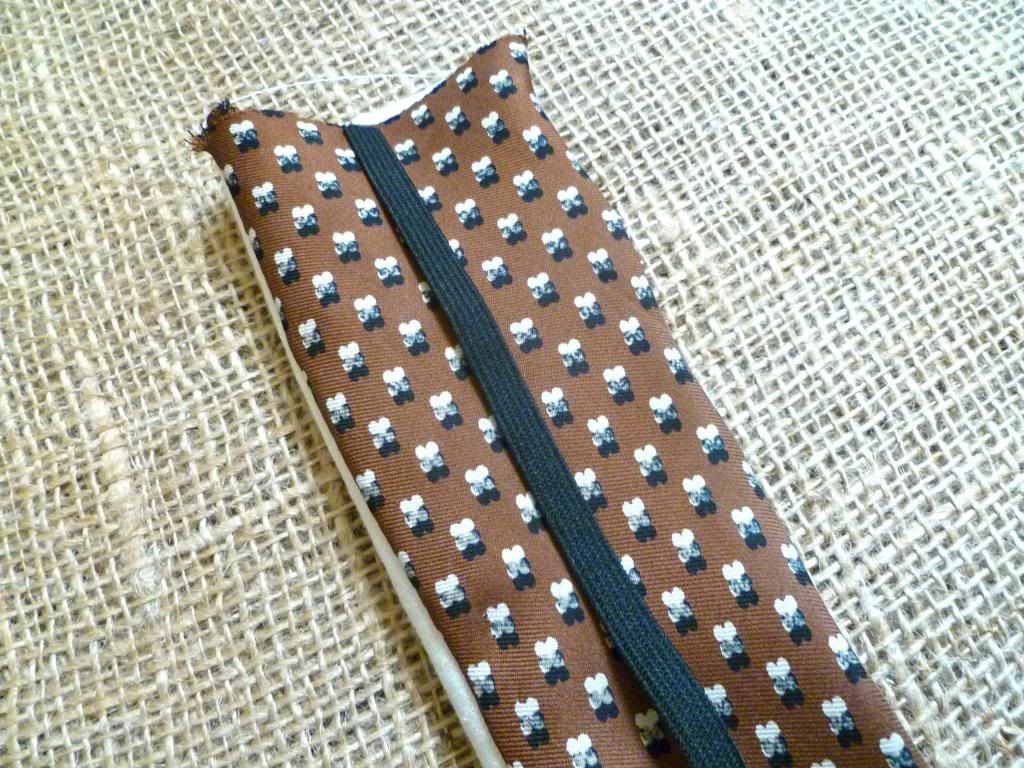 Now, place one end of the elastic in the center of one end of the headband. Holding the elastic in place, fold one corner over the elastic and pin in place.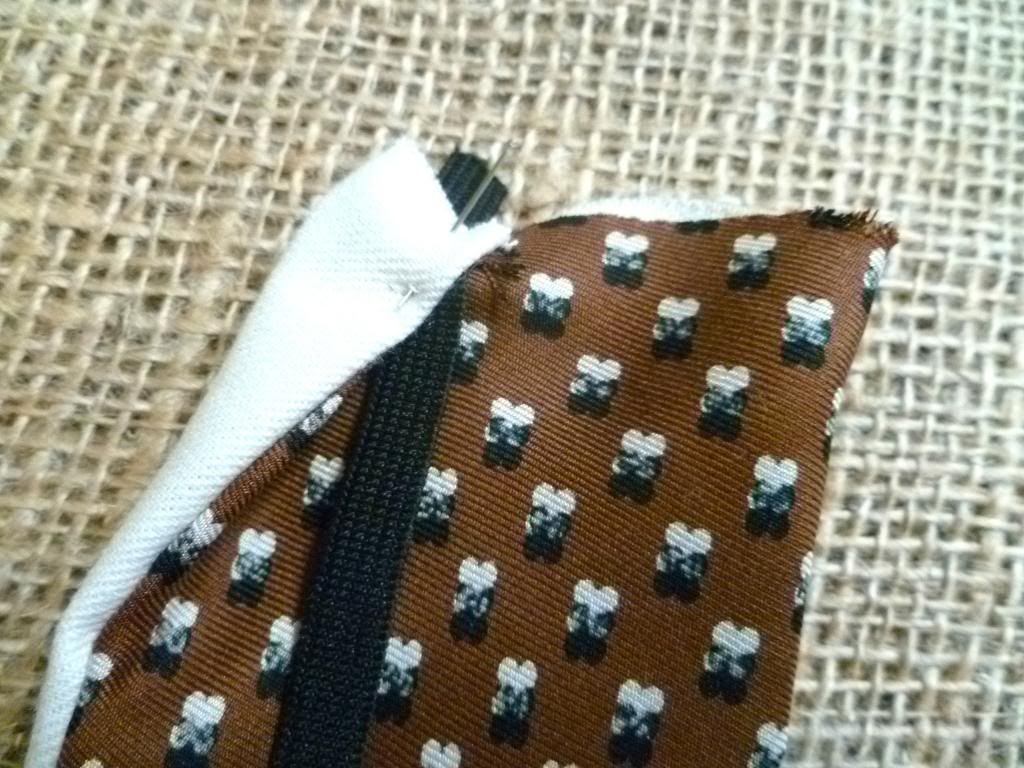 Fold the other corner over the elastic and pin that corner in place.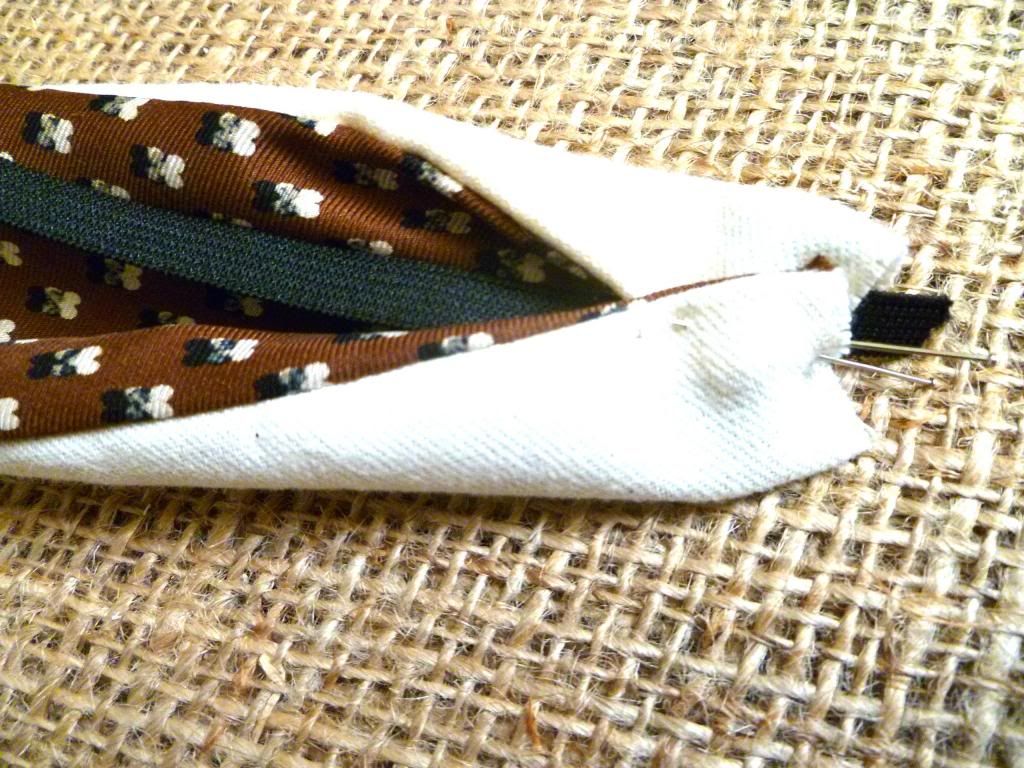 Both corners should meet at the center.
Sew a 1/4" seam across the entire end of the headband. Remember to stitch back and forth at the beginning and end of each seam to reinforce the seams.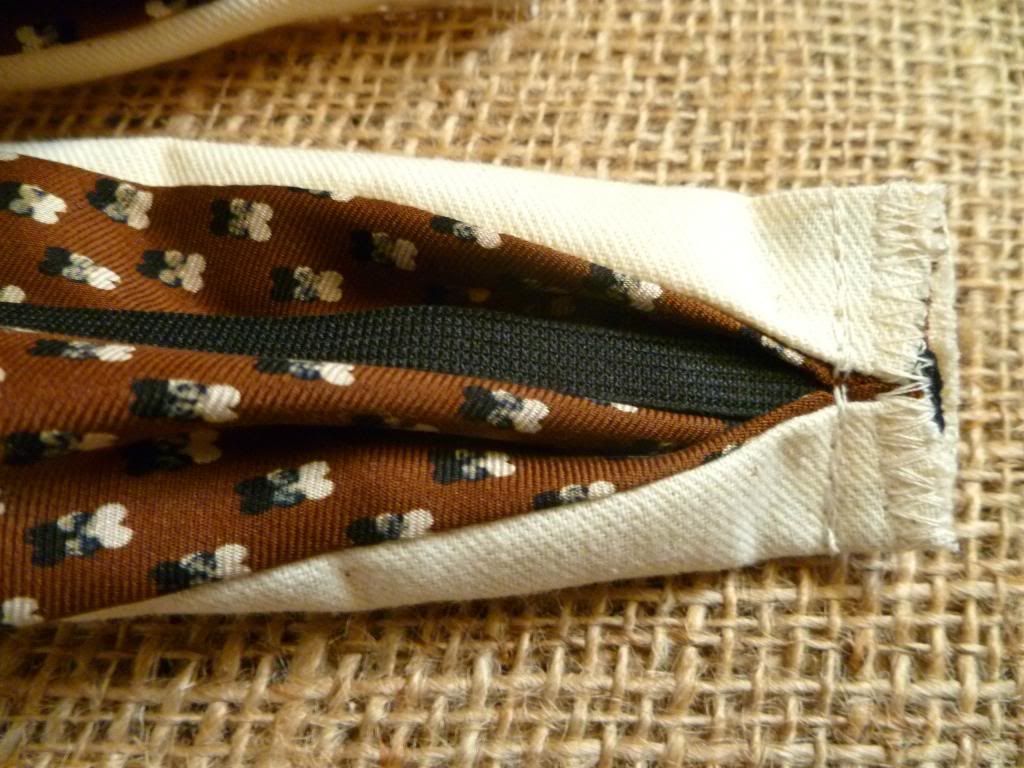 Again, I like to do a double stitch for added security and I also zig-zagged the unfinished ends.
Turn your headband inside out and you're finished. I pressed my headband (on the silk setting) for a crisp, flattened look. Once you have the hang of it, these headbands are quite easy and take only minutes to make. The thing that added time to this version, is that I added a backing because the silk is quite lightweight, but you don't need a backing on a medium or heavyweight cotton.
---
Tracy's done it again with another fab-u-lous tutorial. I'm beginning to think that you can pretty much find a new purpose for just about everything! I've seen plenty a tie in thrift stores, but if you have a tie-wearing man in your life, you're sure to come by these very easily. I know there are drawers and drawers full of ties at my mom's place. My dad worked a job where he wore a tie every.single.day and without fail on Sundays. So I think it's pretty safe to say I could swim in a pool of ties. Headband anyone?