Hello my dear readers. Today's guest post comes from Stephanie of "The Enchanting Rose." Stephanie's blog provides such an inspiration to me. In the midst of her recipes, crafts, lovely floral photos, and dainty tea cups, I can always count on the fact that she will encourage my heart with Scripture. Thank you, Stephanie for sharing with us today!
---
Hello Lovelies!
My name is Stephanie and I blog over at
The Enchanting Rose.
It's a
blog
about sweet faith in Christ Jesus, delightful crafts, yummy recipes,
charming tea cups, and blessed words of encouragement.
It's an honor and pleasure to be guest posting for sweet Libby while she enjoys a break.
She and I have known each other for close to a year
and I have been richly blessed by her kindness and friendship.
She has been a beautiful testimony for Jesus Christ and it's a joy to see her love for Him.
~~~~~~~~~~~~~~~~~~~~~~~~~
Now onto a delicious and easy cookie recipe!
Before I got married I had never tried a Snickerdoodle cookie.
I know, kind of pathetic :)
I didn't even know what a Snickerdoodle was until after I was married
and my new husband asked my if I could make him some Snickerdoodles.
"Some what?!?" I said.
He told me they were cookies.....
I didn't want to "fail" in the baking department so
I began going through my cookbooks and found a recipe that I have used since that day.
It has become a favorite in our household
and this is what you'll need to make you own.


**~~~~ Ingredients: ~~~~**
1/2 cup butter, softened
1 cup granulated sugar
1/4 teaspoon baking soda
1/4 teaspoon cream of tartar
1 egg
1/2 teaspoon vanilla
1 1/2 cups all-purpose flour
2 tablespoons granulated sugar
1 teaspoon ground cinnamon
In a medium mixing bowl beat butter with an electric mixer for 30 seconds.
Add the 1 cup sugar, baking soda, and cream of tartar.
Beat until combined, scarping the sides of the bowl occasionally.
Beat in egg and vanilla until combined.
Beat in as much of the flour as you can with the mixer.
Stir in any remaining flour.
Cover and chill dough about 1 hour or until easy to handle.
Combine the 2 tablespoons sugar and cinnamon in a small bowl.
Shape dough into 1-inch balls and roll in sugar and cinnamon mixture.
Place 2 inches apart on an ungreased cookie sheet.
Bake in a 375 degree F oven for 10 - 11 minutes.
Transfer to a wire rack and cool.
If you are like me and didn't know what a Snickerdoodle was than now you know.
But I have an idea most of you already know what these cookies are :)
Enjoy and have a wonderful day!
A big thanks to Libby for letting me share this recipe on her blog.
And please feel free to visit
The Enchanting Rose
anytime.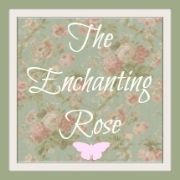 ---
I may be linked up to the following parties:
Sunday:
Monday:
Tuesday:
Wednesday:
Thursday:
Friday:
Saturday: